Friends to Lovers
In the summer of 2019, Heather met Isaac on her first day of work at Top Furniture. Every morning afterwards, they greeted each other and slowly got to know one another. Eventually, the two became best friends. After some great times together, including a few work get-togethers at the local greasy spoon, they grew even closer. Watching movies together, they'd always hit pause to talk and share jokes. Then, when the pandemic hit in early 2020, Isaac and Heather quarantined together and shared their first "I love you."
Isaac proposed in a beautifully intimate way. The couple had plans to go hiking after work, but Heather wasn't feeling well and crawled into bed instead. Moments later, Isaac came into the room and kneeled down by the bed, taking her hand under the pillow. He was incredibly nervous, but Heather threw her arms around him and said yes! As they had shared so many memories at home together, Heather felt this was the perfect proposal. From there, the two knew they wanted a relaxed, rustic New Hampshire wedding with their closest friends and family members.
A Twin Mountain "I Do"
Isaac and Heather's rustic New Hampshire wedding was a gorgeous, yet simple, celebration of the couple's love. While getting ready with their bridesmaids and groomsmen, Heather and Isaac reflected on their deepest wishes for the day. Isaac was most looking forward to saying "I do" and officially being married to the girl of his dreams. As a testament to the closeness of their relationship, Heather couldn't wait to be home unwinding together in sweats and talking about their wedding day.
The two tied the knot against a charming forest backdrop, sharing tears, smiles and laughter during the ceremony. Later on, at the reception, the two danced to "Hey Pretty Girl" by Kip Moore, swapped bites of cake (gently!) and danced with friends and family.
We were honored to take part in this heartwarming, rustic New Hampshire wedding. Congratulations, Isaac and Heather!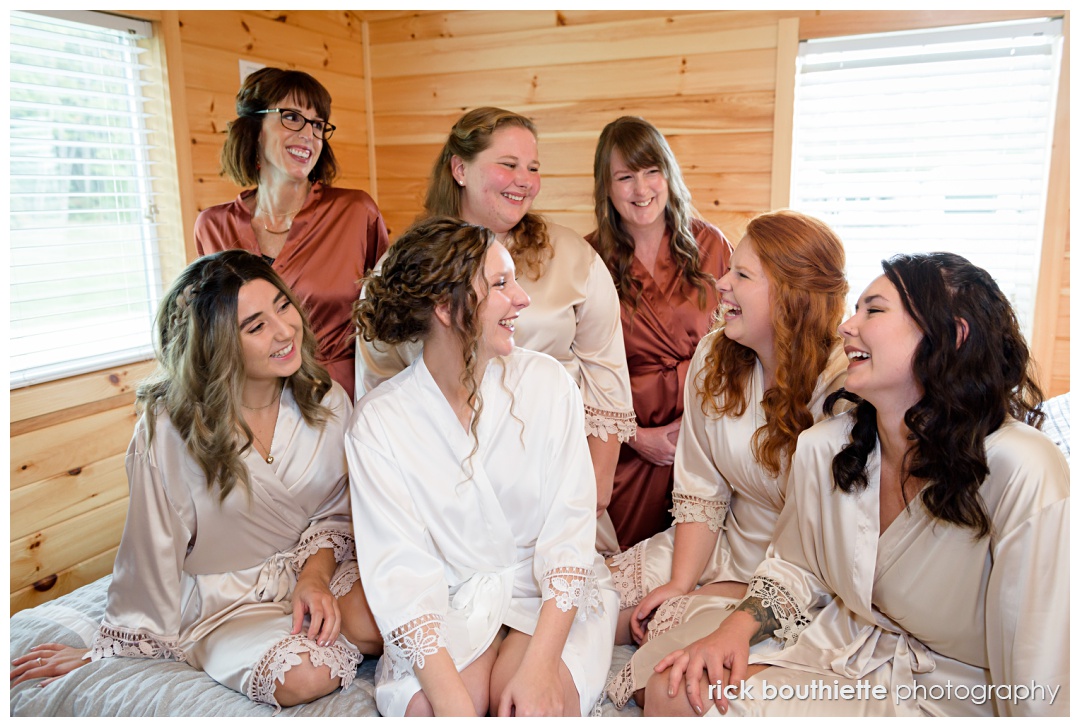 Many thanks to the phenomenal team who made this resort wedding session so perfect…
Rustic New Hampshire Wedding Ceremony: Twin Mountain KOA
Reception: Twin Mountain KOA
Florist: Gorham House Florist
Cake: Kirstin Tardiff
DJ/MC: Dave's Music Entertainment, Dave Duchesne
Dress: Blush Bridal
Bridesmaid's Dresses: Baltic Born
Makeup: Katelyn Mosher, True North Salon
Hair Styling: Katelyn Mosher, True North Salon
Décor: Abbott Rental and Party Store
Photography: Rick Bouthiette Photography
Rustic New Hampshire Wedding Photography from Rick Bouthiette Photography
We capture special moments every day, and we would love to tell your story through photography. Whether you are looking for a rustic New Hampshire wedding or a charming seacoast celebration, we are here to take elegant, professional photos that you will remember forever. To learn more about our wedding photography and other services, give us a call at 603-361-2216.