CLIENT TESTIMONIALS
We feel there's a lot more to consider than just how beautiful your wedding pictures will be. Read what some of our clients shared about what their experience was like with our studio in these wedding reviews.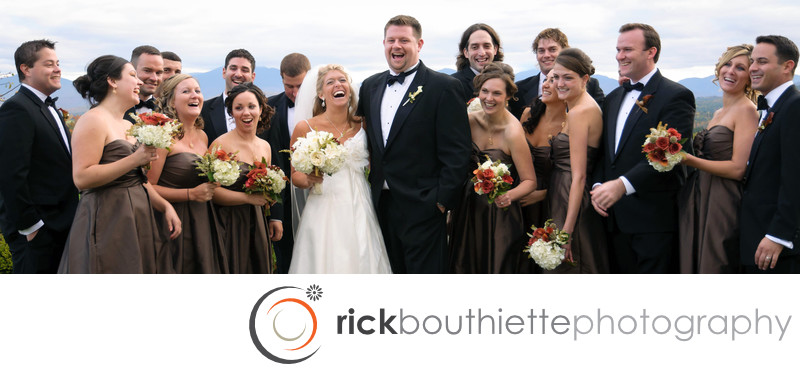 ---
"AMAZING! I cannot recommend Rick Bouthiette Photography enough! Having Rick Bouthiette Photography capture our wedding day 9/14/19 was the best wedding-related decision we made! Rick and Deb are the perfect tag team. From our first meeting with them we knew we had to go with them, not only because their photography skills are amazing, but because they are warm, kind people who truly enjoy their work.
Rick and Deb meshed with our families and guests quite well. For a photo before heading down to ceremony, I wanted all the bridesmaids to take a fireball shot. My cousin who was passing them out offered one to Deb, not realizing she was one of our "vendors," my cousin thought she was a family friend! Of course, Deb had to decline, but this just goes to show the type of people Rick and Deb are. They blend right in with everyone and make everyone feel comfortable. I was informed after the wedding Deb was a lifesaver when it came to boutonnieres and pocket squares for the guys. My hair and makeup did not come out how it did at either of my trials which was stressful, as we were already running late. Rick reminded me to breathe and got some wonderful shots of me fixing my makeup (which at the time seemed hectic, but in the end made for unique photos). Deb offered moral support and helped ensure detail photos were taken care of as I was too busy to do this myself. During our engagement shoot with them last October I forgot gloves and my hands were FREEZING (It was about 40 degrees that day). Deb lent me her gloves. I truly cannot say enough good things about these people. They are the type of people you want around on your special day, talented and detail oriented, but also so compassionate and friendly.
The photos are beyond words. I honestly can't say which I love more…. The candid photos or the posed photos, there is a hearty mix of both. I love that there are traditional wedding photos as well as people actually having fun and laughing. As we all know our loved ones won't be around forever and I am grateful to have photos that capture them how I want to remember them- laughing, talking, enjoying themselves, etc. So many details of our day were captured by Rick and Deb and I truly appreciate that because with everything going on I didn't get to stop and take every single one of them in. They were so considerate of the photos that were important to us and completely exceeded our expectations. Our photos are simply breathtaking. Rick Bouthiette Photography is fabulous! Hands down our best "vendor" (I hate calling them this because they are so personable, and after working so closely with them over the last 12+ months, I would consider them friends!). Way to go Rick and Deb!! We love you guys!"
Brittany + Kevin Ciccone
_________________________________
"I knew from when I first met Rick and Deb they were going to be more than my photographer but also friends. They wanted to know all about me and our day. They wanted to know what kind of pictures I wanted to represent the day. They suggested engagement shoot but unfortunately my fiance did not want to do it. He does not like his picture taken. I ended up working with Rick and Deb to do a surprise photo shoot for my fiance. It was so helpful come the wedding day. They knew how to capture the day and made us all feel very comfortable. Now about my Fiance not liking his picture taken, they even made him feel relaxed and he commented on how he liked working with them. For the most important part of this review is the final product. The pictures are amazing and they captured every little detail perfectly. I highly recommend them to capture your special day. You will not be disappointed!"
Elisa V
_________________________________
"Rick and Deb were beyond amazing for our wedding. After my first consultation meeting with Rick and Deb I knew they were the best choice for my wedding day and engagement session. Our first engagement session with this wonderful photography couple was a breeze and they made us feel so comfortable. My husband and I were very nervous being the center of attention and they made us feel so relaxed in front of the camera. Rick and Deb also allowed us to feature our dog Obe in our engagement session. They were so willing to take the time to find a location that would allow dogs and would provide a beautiful back drop for our session. Between our engagement session and wedding day Rick and Deb were always available to answer any questions by email or by phone, which made my planning so easy! Our wedding day with Rick and Deb was amazing. Prior to my wedding Rick and Deb drove around to find the perfect first look location for our sunny day to ensure we had the best quality lighting. During our first look with my husband we felt so comfortable to be ourselves. They gave us time to enjoy the moment with each other which was very important to us. Rick and Deb are an amazing team who really take the time to make their clients feel special. This photography couple is more then just two people behind the camera. They are very personable people and they even come to the rescue when loose buttons need to be fixed at the last minute. Without hesitation I would recommend this fantastic team!"
Carolyn + Sean
_________________________________

"To start I was super picky when finding a wedding photographer. I've had friends who were disappointed with their photos, and I did not want to be one of those brides. As everyone knows a picture is worth a million words. After an amazing perfect wedding the memories will fade but the pictures will still be there to remind us of the wonderful time we had with family and friends. From first meeting Rick and Deb we knew they were it for us. Now my husband was hesitant on the engagement shoot as he hates photos of him but boy are we glad we did it. The pictures are incredible and once the wedding came we were incredibly relaxed for photos and they were like family to us. Rick and Deb are so warm, friendly and professional. They even had us all laughing throughout the day. I've seen a few sneak peaks and they are breathtaking so far. I cannot wait to see the rest of the pictures. Booking with Rick and Deb was one of the best decisions we made. We will certainly use them for all our photography needs in the future. Book with them you will not regret it."

Jackie + Tyler

_________________________________

"Rick and Deb are great people and amazing photographers. We put our complete faith and trust in them as a couple and our photos are absolutely amazing! They are a great team and they really make you feel comfortable throughout the whole day. They take care of everything for you! We had a great experience with Rick and Deb and cannot say enough wonderful things about them!"
Erin + Andrew
_________________________________

"Rick and Deb were phenomenal to work with. They did such a great job on capturing our big day and they had a sneak peak posted up that same night, talk about fast turnaround times. The pictures are so beautiful and they managed to capture some truly meaningful and beautiful moments. I'm so happy that we'll have such gorgeous pictures to remember the best day of our lives. I highly HIGHLY recommend Rick Bouthiette Photography, even for days afterwards we had guests coming up to us to tell us what an amazing job our photographers did."
Alana + Dan
_________________________________

"Selecting a great photographer was one of the most important parts of planning our wedding. I did extensive research, spoke with many photographers and met four in person (I came with a questionnaire to each meeting!). Rick was one of the first I spoke with, and highly enjoyed our conversation. I continued to look around, but always came back to how much I enjoyed talking with Rick. I reached out to him again several months later, and was thrilled he still had our date available! I met him and his wife Deb, and we talked and collaborated for a while! He was willing to customize a package that met our budget, and I knew they would be perfect to spend the day with us, and capture our wedding day!

It was important to not only select a great photographer, but also to have someone that would fit right in with our crowd. We also did an engagement shoot before the wedding, and I am so glad that we did! My husband-to-be was reluctant, but he relaxed as the night went on, and loved the pictures! Rick was a great sport dealing with all the black bugs that happened to come out that night in Newburyport! I cannot recommend the engagement shoot enough, do NOT pass on this! Rick shared with us many great tips that carried over into the day of the wedding. All in all, Rick and Deb certainly delivered! We have so many great shots from our wedding (including getting some awesome shots at Christy's Pizza and a car show!), and the quality of their work is superb! They were open to our ideas, and had plenty of their own, which was great! After the wedding, he posted a couple of "sneak peak" shots on Facebook, and all of our family and friends loved them! We met with them a couple of weeks later to see the pictures on a slide show, and spent time reminiscing about the day. We were so thrilled with all of the pictures they took!

Nothing is better than having a husband and wife duo capture your first moments as husband and wife, and I highly recommend Rick and Deb!"
Sean + Lindsay

_________________________________
"Photography was the top priority for our wedding, as we wanted to have beautiful photos to look at when we get older! We reviewed and talked to 12 photographers before we found Rick and Deb. We met with them one night, about 14 months prior to the wedding, and decided to go with them right away.
The day of the wedding Rick and Deb were super helpful and on top of the wedding schedule to ensure we got all the photos we had on our list. They were so friendly with us, our bridal party, and the guests that it felt like they were part of the wedding and not our photographers.

Regarding the photos, Rick and Deb did an AMAZING job photographing our wedding! We could not be happier with our wedding photos. We have been asked by so many of our friends who our photographers were, because everyone was amazed by our incredible photos. It was an absolute pleasure working with Rick and Deb!!!"

Bill + Ina
_________________________________
"Early into planning our wedding, we had narrowed our photographer search down to only a few options. We set meetings up with each one, and told ourselves that we wouldn't make a decision until we met with them all. However, the moment we met Rick and Deb, we knew they were a perfect fit. They made us feel like family. They showed a genuine interest in our relationship, and in our wedding.

The Engagement Photo session helped them get to know us even better, and prepared us for what we would experience on the day of the wedding. They came to a location that we chose and took really beautiful photos.

On the wedding day, Rick and Deb were more than just our photographers – they helped keep us on schedule, they fixed our hair, got to know our families, and genuinely made the day special.

Within only a few weeks our photos were complete – though throughout their editing process, they posted quite a few previews on their Facebook page. Every single picture captured our special day perfectly. With their photos, we'll be re living our wedding day for years to come.

We honestly cannot recommend them enough."

Nick + Colleen
_________________________________
"Rick and Deb were so wonderful to work with on our big day!! From day one of getting in contact with them they were there to answer any questions and help in any way. I was definitely a somewhat hands off bride, and was somewhat overwhelmed with planning the day off schedule. Rick talked it through with me on the phone and provided a fill in the blank timeline that really helped!!
Since my husband is in the military and I was living out of state we didn't actually meet with Rick and Deb until the wedding day. They immediately put us right at ease and knew exactly how to direct all the crazy family members and bridal party. They best part was how efficient the photos were! We got all the shots we wanted with plenty of time to spare.
The photos came out truly beautiful all of our guests were very impressed. We were thrilled with the results and couldn't have asked for better photographers on our special day!!"
Rob + Caroline

_________________________________
"We can't stop raving about our photographers Rick and Deb. With Rick's exceptional talent, coupled with Deb's sweet demeanor and creative eye, we had so much fun working with them and were overwhelmingly satisfied with the final results.
We were incredibly impressed with their professionalism, candor, vision, and how absolutely accommodating they were throughout the entire process, including working with my new husband, despite how uncomfortable he was with getting his picture taken. They both arrived professionally dressed on the day of our event and were remarkably friendly and accommodating to all of our guests.

The quality of the pictures was beyond our expectations, but the turn-around time to receive them was even better. We received them (all edited on CDs and compiled in a beautiful slide show with music) less than 2 months after the actual wedding.

They followed through on everything they promised and even incorporated the last minute requests we had for the day. They were completely flexible, but also took charge (so we didn't have to worry) of capturing every moment and detail at the Wedding.

The overall experience was so wonderful because we were working with experienced, respectful PROFESSIONALS who are passionate and LOVE what they do. As a high-maintenance, picky bride, I was blown away with how all the photos that were taken told the story of our day, our love, and most importantly how incredibly happy we were with such a stress-free Wedding because of the photographers we chose."

Rick + Angela
_________________________________

"Words cannot fully express how wonderful it was to work with Rick and Deb. Rick and Deb are very talented at what they do. We truly feel blessed that these two were there to capture our day.
I do not believe that anyone could have done a better job. They captured all the special moments of our day and we will always be grateful for this gift. I have viewed our wedding pictures so many times since our wedding and I am still amazed with how beautiful they are.
Rick and Deb made us feel that we, as well as our day, was important to them. They are passionate at what they do and it shows in the pictures they take. I refuse to use any other photographer to capture any events that take place in our future.

We are so blessed to have had this amazing experience and feel that we have gained two wonderful friends in the process."

Mike + Meghan

_________________________________
"When my husband and I were planning our wedding we originally thought "Photographers are so expensive, we don't need to spend extra money on that because we have family and friends that take decent pictures." Thank goodness my mother-in-law talked to us. She said that the photographers would be her wedding gift to us. She had always wanted Rick Bouthiette to photograph one of her child's weddings.
We ended up having a meeting with Rick and Deb Bouthiette and had some head shots done (not associated with the wedding) and it was a very relaxing experience. I have never really liked my picture to be taken and I tend to be nervous in front of the camera. Rick and Deb took time and talked to me, got to know me, and after about 10 minutes I felt that we have been friends for years. They explained how to stand, smile, and just be relaxed in-front of the camera.

When it came to engagement photos they went above and beyond and spent extra time with us to get multiple scenes. Then to get ready for the wedding they talked to us and wanted to know all the details so they were prepared for everything. We did some things to surprise our guests, but Rick and Deb knew so they were able to get amazing angles. This is what made them such an important part of our most magical day.

My husband and I just feel so blessed to have had Rick and Deb as our photographers and we really want to stress the importance of a great photographer for your wedding. You might think ehh we can save a lot but trust me, save money other places and splurge on your photographer! We have the most amazing pictures I have seen, and your day is once-in-a-lifetime but the pictures Rick and Deb Bouthiette take, will last for generations."

Jay + Kimberly

_________________________________
"Ben and I were so lucky to have Rick at our wedding! By the end of the day he felt like a part of the family!
He was perfect! He has a rare gift to be able to capture the essence of the moment and the inner beauty of people through his lens. He stayed out on a cold February day and captured it just like my husband and I wanted him to.
We are thankful and feel fortunate to have had him there to capture the day we began our lives together! We could not of asked for anything more!

Thank you Rick for making that day as perfect as it was!"

Ben + Amy



---
Want peace of mind knowing your memories will be captured perfectly?
Call us - 603-361-2216 OR Text Us!
---